My favorite thing about homeschooling is that there is so much freedom in the methods! Homeschool families have tons of options that look nothing like a typical classroom, to make learning fun and expand their world. I'm so excited to share with you some really fun and out-of-the box learning opportunities by my fellow homeschool bloggers.
This post contains affiliate links.
Roadschooling
Often, a family's best memories are of their vacations. So many families are taking advantage of the flexible homeschool life to travel. In my family, a road trip (no matter how short or long) is a perfect opportunity to stop at a new or interesting shop, eatery, antique store, or historic site. We always stop and read historical markers! But did you know there's a new way to learn about historic tidbits as you drive? We found the Autio app on our last trip, and it was so cool! Autio tracks your location and alerts you when there's an interesting site with a story nearby. If you are interested, you can listen to the 3-minute podcast about that site. It's a leisurely way to learn new things without stopping.
I also like to turn on an audiobook that is related to our trip in some way. When we drove to Colorado one year, we visited the area around Durango. Galloway by Louis L'amour is a great western that takes place near there, so we listened to it on our drive. Look up children's books or classics that either take place in the location you're traveling to and add another dimension to your road trip.
Try Audible Premium Plus and Get Up to Two Free Audiobooks
Traveling during the "school year" is one of the best perks of home education. Smaller crowds, nice weather, and the flexibility of mom or dad's vacation time make life more flexible for road trips. Cynthia at Inside Our Normal describes roadschooling with her "out of the box" kids.
"Each child had a binder for their school work. In the front of it was a child friendly schedule for our trip, which let them know what was happening when and what to expect. Details like how long the drive would be on given days and what our planned activities were at a given location helped everyone be on the same page. There was also a US map to check off the license plates we saw while we were in the car. The first leg of the trip we drove on Route 66, so we saw cars from EVERYWHERE."
This is exactly what the Truesdells do on road trips! An itinerary and a map make the kids feel like they are "in the know" about travel plans, and an added bonus is geography practice or review. We almost always find all 50 states during our "license plate game."
Annette shares Five Wonderful Benefits of Roadschooling on her blog, In All You Do. "When you are on the road, nothing is off limits. Not only can you can stop at landmarks, historical spots, or even different types of landscapes to teach your lessons- but you can map out your schooling to fit your destinations!" She also offers an inexpensive Roadschooling Family Journal download and document your family's learning experience. Be sure to see her "roadschooling curriculum" choices here.
Kimberly (at A Family Devoted) and I think alike when it comes to making your destination a lesson: " To make homeschooling more fun on the road, switch it up a bit and do some unit studies on the areas that you're going to be traveling to. You can also even look for several read-a-loud books for certain historical people or places in the state." Read more in her post 6 Easy Ways to Make Travel Educational.
Captivating Compass is a blog dedicated to homeschool travel, so if you're intrigued by roadschooling you'll definitely need to browse Shannan's material. She shares lots of great things like downloadable travel unit studies and travel tips for homeschooling parents, including this post on how to Be a Smart Traveler Superhero.
Homeschool on the Range has a huge roundup of links and tips for roadschooling, including an Intro to Roadschooling video.
One more tip for roadschooling: postcards! Pick up postcards at fun sites, but don't just stuff them in your souvenir bag: mail them to friends! Bring along the mailing addresses of friends and family, and let "letter writing" be a part of the journey. Postcards are perfect because they must be short and sweet, and they include "addressing an envelope." Ask for postcard stamps where you buy the postcards. We found out that most tourist stops carry these for convenience.
As you can see, traveling for school opens up so many unique opportunities to expand a child's education. The world is truly their classroom!
Gameschooling
Have you considered how much learning can be achieved with math games, video games, card games, dice games, or online games? The possibilities are almost endless! We have often taken a break from traditional schoolwork for a "no pencil day" at our house, and this always includes educational games (along with flash cards and documentaries or movies). No matter your child's age, gameschooling is a really fun way to build math skills, social skills, review math facts, sharpen money skills, and have fun with the entire family.
Related Post: 10 Ways to Learn With Board Games. This post has my top 10 list of traditional games that are fun and educational.
Let's start with The Complete Gameschooling Guide at Homeschooling 4 Him. Sara says, "What if, instead of using frustrating worksheets and intimidating textbooks, you could homeschool your child by playing games? The truth is, you can, and many homeschool families do. This phenomenon is called gameschooling and it might be exactly what is missing in your homeschool. Keep reading to learn everything you need to know about gameschooling, and how to make it work for your family." She has a great list of 23 reasons why you should include games in your homeschool lessons.
I recently shared about The Classical Historian's variety of Go Fish games in my Instagram Stories. These have been a favorite with all of my children for years (yes, even the teenagers!) We play American History Go-Fish the most, but all of them are fun. As the homeschool mom, I appreciate the sneaky review of the history topics we've covered.
How would you like a list of 50+ Games for Elementary Math?? Hop over to Teach Me, I'm Yours and see this massive list of different ways to teach new concepts and review past skills with the use of games. Math often causes frustration and tears, but when it's turned into games, children are engaged and having fun. Game play can become a regular part of their homeschool curriculum!
Gameschool Academy is an entire blog dedicated to game schooling for all ages. Meg has lots of games to recommend, divided into categories like language arts, science and stem, and social studies, as well as age group from elementary to high school students. Board games, mobile apps, and free printable games are just a few of the possibilities on this site!
We have enjoyed our National Parks Monopoly (picked up at Capulin Volcano National Monument in New Mexico). It combines gameschooling and roadschooling in one fun and educational experience!
Video Schooling
Though we tend to be fairly traditional in our homeschool, using lots of books and paper, I will admit that video plays a huge part in our education. That doesn't mean that we use a video curriculum; it's just that videos of various kinds are an important part of our homeschool curriculum. Relevant movies, documentaries, apologetics courses, and even virtual tours of locations around the world have brought new information to life and allowed me to cover a wide range of topics in an engaging way.
Some examples include Drive Thru History (we use these with our Mystery of History curriculum), The 101 Series science, AnswersTV from Answers in Genesis, classic movies like Gone with the Wind and Johnny Tremain, and the YouTube series Secrets of the Castle.
Speaking of YouTube, Kimberly at It's Only Homeschooling has a section of her blog devoted to YouTube Schooling! She does a great job of helping parents (and kids) set up their YouTube playlists and navigate it safely. She shows you how a homeschool family can utilize YouTube for virtual experiments, audiobooks, encouragement, and much more. Like Kimberly says, "if you can think of it, there's probably content devoted to it."
In a related post, Kimberly shares tips for movie schooling! Movies provide lots of opportunities to expand a school lesson or engage visual learners. Her post is full of excellent tips on practical application, critical thinking skills, and several movie lists!
Project Based Schooling and Unit Studies
Focusing on a specific area of interest is a great way to think outside the box and encourage a spirit of lifelong learning in your children. You can build an entire curriculum around targeted topics and specific skills. In fact, this is one of the first things I encourage new homeschool parents to do when they withdraw their children from public school. It's such a fun way to enter the world of homeschooling (and there are often fewer power struggles).
What is Project Based Schooling? Read this post at Wonders of Curiosity for an introduction. It follows a child's interest, building on it with multiple ways of learning. "The basis of a true project-based homeschooling approach is following the child's lead. You pay attention to their curiosities and supply them with materials to help them learn about those interests."
This is similar to a Unit Study, which is a way to apply multiple academic skills to a specific subject. You can purchase unit studies online, or create your own. I love the Download-N-Go units from UnitStudy.com. They have such a fun variety of topics, like Robots, Tornadoes, Amelia Earhart, Butterflies, Pizza, Football, Easter, and so much more!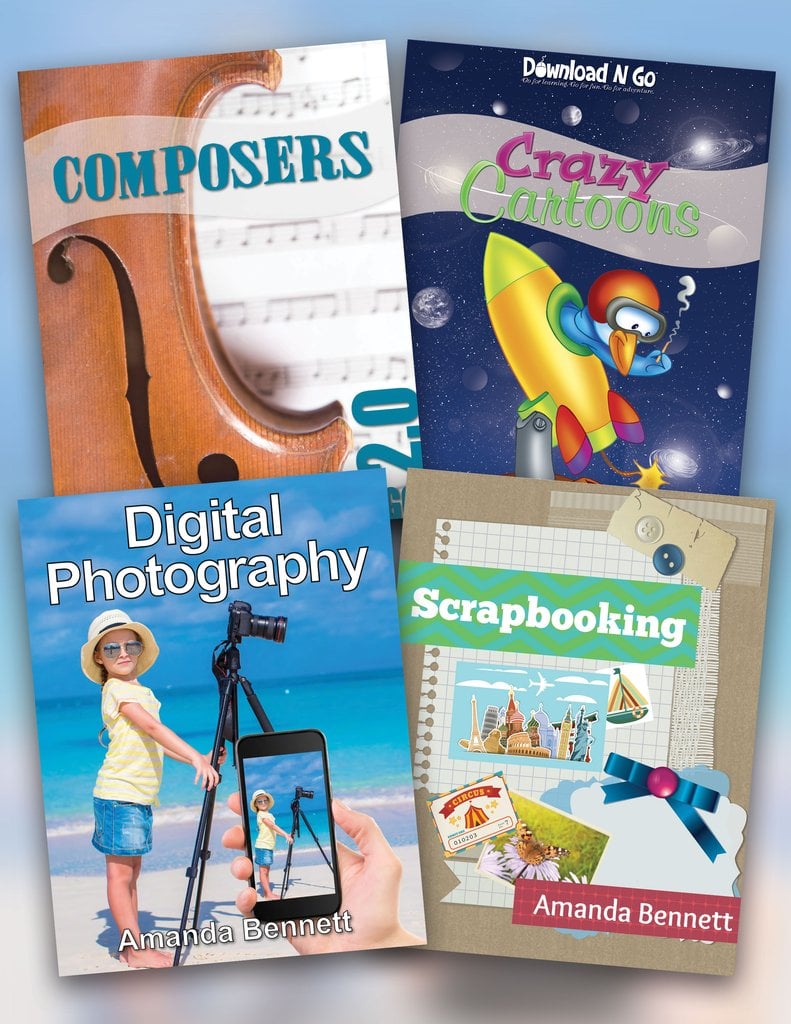 Online Homeschooling
You know, I was a homeschool kid in the 1980s, and I could never have fathomed the world of online school back then! But look where we are today! The internet has truly opened up so many more options for education at home. It definitely answers the "I'm not qualified" objection. Though I do believe every parent is qualified to teach their own child, I also know that online teachers take a lot of stress off of a parent's shoulders.
True North Homeschool Academy has a helpful post to get you started navigating online education. The advice is spot-on: do your research and know what you're getting. There are some wonderful options and some terrible ones. And this podcast at the Ultimate Homeschool Podcast Network is a great listen, as well.
Some of my favorite curriculum companies offer excellent online courses!
Institute for Excellence in Writing is our pick for writing and grammar (and there is a whole lot more!). The Structure and Style courses are also available as online courses. I know this is wonderful news for parents who have always been interested in the program but found it a bit overwhelming to teach. (It's not, I promise, but for a beginner it can feel that way.)
We have really appreciated the apologetics courses online from Answers in Genesis. During the Covid pandemic, AiG offered a great deal on an apologetics bundle course, which we eagerly took advantage of. My teens spent the past year going through the material. It is wonderful, and I think it is a vital addition to every homeschool high school.
More Out-of-the-Box Schooling Styles
Family-Style Homeschooling is my BFF. This post at Whole Child Homeschool describes exactly what we do! It saves time, money, and sanity. If you have more than one child, learn how you can efficiently homeschool all ages and subjects.
Off-Grid Homeschooling is a whole new way of life for kids, and includes tons of educational opportunities. An Off Grid Life is an excellent resource for families who are interested in living the homestead lifestyle and providing these life skills to their children.
Deschooling is what every new family should do when they first remove their children from public school. It's a time of decompression, rest, and renewal as you enter this new way of life. Read this post by Tree Valley Academy.
This roundup would not be complete without an introduction to unschooling. It looks like many different things for many different families, but this Beginner's Guide to Unschooling will get you started.
Anyone Can Homeschool
I hope this post has opened your eyes to the wide variety of non-traditional homeschooling methods! There is something here for everyone, including the brand-new homeschooling family. I encourage you to ditch the classroom mindset that we all grew up with and give your children an exciting life of learning at home, online, and on the road.
If you haven't yet begun homeschooling, but you're interested in getting started, I hope you'll read my book, Anyone Can Homeschool. It will help you de-school your mindset, apply home education to your specific circumstances (including single parenting, low income, special needs children, and more), and will walk you through "how to get started."