My son and I were both very excited to receive Imagine. . .The Great Flood by Matt Koceich from Barbour Publishing. It's the first in a new series of middle-grade fiction that is fun for Christian families.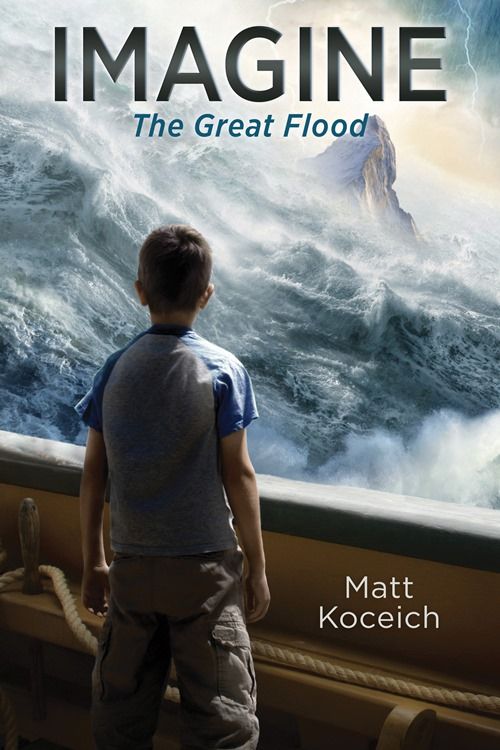 My 11-year-old son, Nicholas, reviewed this book. He is a voracious reader, and especially loves books that are out of the ordinary. Imagine…the Great Flood was perfect. He could not wait for it to arrive. When the book was delivered to us, he ripped open the package and read about half the book immediately.
The following review of Imagine…The Great Flood is what Nicholas narrated to me:
The book opens with the boy (Corey) moving to Florida. He is angry because he will have to go to a new school and make new friends. He is also angry at God and wondering why He would do this to him. While he is at the park one day with his mother and his dog, he angrily throws a ball — too far into a forest. The dog was on alert, began running toward the trees, then stopped and started barking. When he was chasing his dog to get the ball, he tripped over something and hit his head. He was dizzy and the world around him started to change. He could hear his mom yelling his name and his dog barking.
Suddenly he was in another world. [Nicholas called it "the Noah world."] Corey found himself on top of a big mountain and was looking around looking wondering what happened. Two lions appeared, but they did not eat him. Next, a man with a big stick appeared, who turned out to be Shem (son of Noah).
Corey experiences many adventures in this ancient world; he helped Shem gather animals, is chased by Nephilim, almost drowns, and witnesses the Great Flood of Noah!
Nicholas liked Corey. Though the boy began the story complaining and asking, "Why me?", by the end of the story his character improved. He made a new friend, and Core+y learned to never doubt God; that He is in control of everything.
Nicholas' favorite scene: when the Nephilim appeared with a big sword and were attacked by lions! He said the story moved along with excitement, and chapters ended with a bit of a cliffhanger. The chapters were not too long, which made it easy to keep going.
My son loves the exciting stories from the Bible, and this Bible adventure was right up his alley. It's fun Christian reading for kids. We are both looking forward to the next installment in this series. Before he even finished the book, Nicholas told me, "I want to meet the author. When is his next book coming out??" He was pretty excited, to put it mildly.
To keep abreast of new releases, and to find out more about Imagine. . .The Great Flood by Matt Koceich, visit the publisher's website: Barbour Publishing, as well as their Social Media links:
There are 75 individual reviews of this fun book by the Homeschool Review Crew. You can read them all at this link: