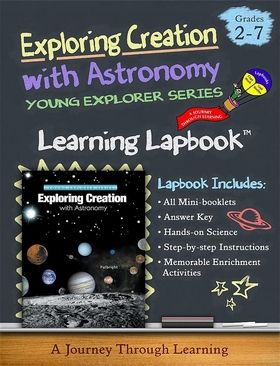 As we were preparing to begin "Exploring Creation With Astrology" by Apologia, we got the great opportunity to review
A Journey Through Learning Lapbooks
, specifically designed to go with this science curriculum! The timing couldn't have been more perfect! We are using the lapbook from the
Apologia Curriculum Page.
If you've visited my blog before, you know how much I love this kind of hands-on, lapbooking activity. We already do a lot of history notebooking, so science notebooking is no stretch for us. I prefer it over worksheets and textbook work any day.
The Apologia lapbook components are a downloadable product. Once downloaded, you choose whether you'd like to print in color or black and white. (My boys are past the coloring-for-fun stage, so we printed in color.) These sets are designed for grades 2-7. My boys are ages 9 and 11, and it is an absolute perfect fit. My 6-year-old joins us for the reading sessions.
How We Use It
It's not my usual custom to use something the way it was designed (haha), but in this case, we did. Following the printable instructions that accompany the lapbook components, we used colored file folders, 3-ring binders, and duct tape to create notebooks to store the finished lapbooks. I found some cool "galaxy" duct tape to use. The boys LOVE it. Each boy designed their own cover for the binder.
I printed double copies of the lapbook components (for each of my boys) and we sat down to read. You can see in the pic below that each section of a chapter has a corresponding lapbook component. This is so helpful for breaking up reading for antsy boys. They really enjoy the lessons, but having short spurts of reading and then doing are great!
Notice that each lapbooking page printable include instructions for completing that component, as well as placement in the lapbook folder. So if you're not an experienced lapbooker, don't worry: the guesswork has been taken out of it for you! The main Journey Through Learning website has a great section called "What is Lapbooking," complete with video instructions and diagrams.
I ask the boys to take turns reading each section aloud. Once this is done, they complete the lapbook task (answering a question, making a list, filling pockets with information, etc.).
They even got creative with a few things, like the fire coming out of the rocket in the Lesson 1 lapbook:
This is what the inside of the binder will look like.
We generally do the Apologia Astronomy and A Journey Through Learning Lapbooks three times each week. In a day, we will sit down for about an hour to read and lapbook. On this schedule, we cover one Lesson each week.
There are several Apologia lapbooks available, as well as many more for Classical Conversations, history and geography, music and literature, other science (including Ken Ham), and unit studies. Be sure to check out the entire collection at A Journey Through Learning's website, and follow them at these social media links:
Facebook:  
https://www.facebook.com/AJourneyThroughLearning/
Twiiter:  
https://twitter.com/AJTL_Lapbooks
  @AJTL_lapbooks
Google+:  
https://plus.google.com/+AJourneyThroughLearningLapbooks
Instagram:  
https://www.instagram.com/ajtl_lapbooks/
The Review Crew has 70 reviews of A Journey Through Learning lapbooks, from different families with different needs and circumstances. Check them all out here: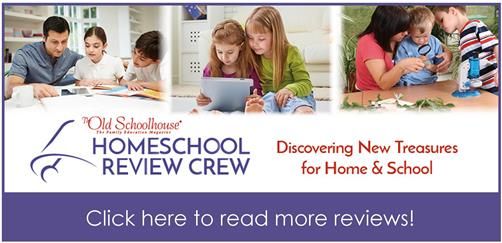 Like it? Pin it!
Nicki Truesdell is a 2nd-generation homeschooler and mother to 5. She loves books, freedom, history and quilts, and blogs about all of these at nickitruesdell.com. She believes that homeschooling can be relaxed and that history is fun, and both can be done with minimal cost or stress, no matter your family's circumstances. Nicki is a member of the Texas Home Educators Advisory Board and The Old Schoolhouse Homeschool Review Crew. She also teaches ESL online from home. You can also find her on  Instagram, Facebook, Twitter, and Pinterest.