I am soooooo excited to share this review! American history comes to life with the Adventures of Rush Revere Book Series from Adventures of Rush Revere #1 New York Times Bestselling Book Series by Rush and Kathryn Adams Limbaugh. If there's anything I get excited about, it's bringing history to life, and these books do it well.
If you're not familiar with the premise of these award-winning, best-selling books, allow me to introduce you. Each story features Rush Revere, a middle school history teacher in modern day New York, along with his
talking
and
time-traveling
horse, Liberty. Thanks to Liberty's magical abilities, Mr. Revere is able to jump back in time to visit certain people and places in American history. As you can see from each title, the duo visits all of the important spots on the American freedom timeline:
Each story involves a few kids from Manchester Middle School, where Mr. Revere serves as a substitute history teacher. He dresses in colonial costume to get his students' attention. But in each story, he also involves a student or two in his time travels to teach them something important with firsthand experiences.
The Presidency
We had previously read the first book in the series, so we were super excited to receive the entire set from the publisher for review. But because we had just finished studying the American Revolution with a focus on the life of George Washington, I really wanted to jump into Book 5 in the series, The Presidency. So I read this one aloud to my boys, ages 9 and 11. We read 1-2 chapters per day. The chapters are rather long, so voracious readers could definitely finish in a couple of weeks, while struggling readers at the elementary level might enjoy hearing it read. Our homeschool history is largely done through read-alouds, especially when there's a book that I want more than one child to read or hear. Plus, I really enjoy being a part of all the books!
The Presidency has everything this homeschool mama desires in a great children's book: fun characters, relateable situations, witty dialogue, the element of truth, and an exciting story. Throw in real American history figures and you've got a winner!
This story opens up with Mr. Revere going to Manchester Middle School to see a student who has asked for his help. Cam is considering a run for School President, and wants the advice of his favorite history teacher. This begins the tale of Cam's campaign. In typical Rush Revere fashion, the best way to answer a question or give advice is to travel back in time and get a historical perspective. Who better to interview on becoming and being President than…you guessed it…George Washington?
We followed Cam and Mr. Revere as they navigated a school election and various trips back in time to confer with Washington. Their first trip was to Washington's first inauguration in 1789, and is later followed by repeated visits at different times in Washington's career as President. Cam has to learn how to win votes, beat an opponent, and what it means to actually become a president, and he learns much from short interviews with Washington himself.
Throughout the book, readers are educated on the Presidential election process with comparisons between modern day and the very first American Presidential election. I personally love the emphasis on Washington's strong character, because we have just spent a few months reading about him and his influence on the 18th century.
In addition to reading The Presidency, we also used the Study Guide provided in the Homeschool Depot section of the Rush Revere website. Because we don't do regular tests, my boys were excited about the challenge of the quizzes for each chapter. They raced to see who could answer the questions first! A nice feature in the study guide is a chapter-by-chapter summary for parents. If you don't have time to read the books with or to your children, you can still skim the summaries and go over the quizzes with them.
This book is perfect for elementary and middle school children. My boys, ages 9 and 11 loved it. I also recommend it as a family read-aloud, for all ages from K-12, because that's how we do things in our house. Younger children will definitely pick up some great stuff from the story, and older students will enjoy the humor of the characters as well as the history review.
Both of my boys LOVE these books. Nathan, my 9 year old, said it was one of the best books I've read to them in a long time. Nicholas, my 11 year old, said he really enjoys it because of the time-travel aspect. 
The book is a wonderful introduction to the presidential election process, as well as the character desired in a president. It's great for a well-rounded audience. Boys and girls who are school-aged will all find something to relate to here. But I really like this kind of book as a fun review for older kids as well as adults who have forgotten everything they learned in school. It's perfect as a family read-aloud.
I've told you about the story and why we loved it. But let me add that the quality of these books is outstanding. They are all hardback dust jackets, and the pages are glossy "parchment" with color photos sprinkled liberally throughout. There is no scrimping on cost here.
Finally, let me say that I despise dry and boring history books, as well as silly, fluff stories that are poorly written. We will stop reading a book if it's just not that great. The Adventures of Rush Revere will never suffer that fate in our house. They're fun, funny, informative, and educational. We are not disappointed!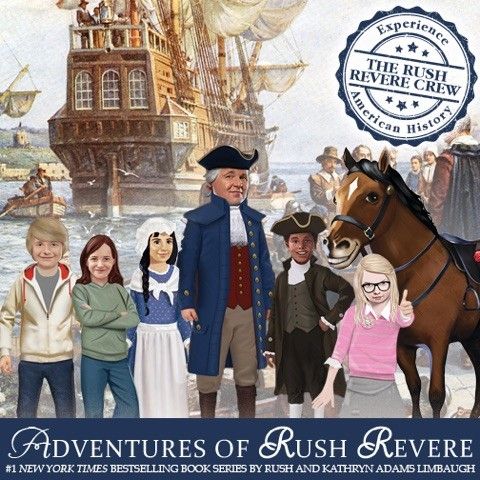 Additional Fun
Let's talk about the Rush Revere website for a minute. This is a gold mine of additional study, fun, and information. Here are just a few of the things we like and have explored: I mean, what homeschool parent doesn't love enrichment activities with a book???
These are just three of many different features on the website. Head over there and look around! While you're at it, follow Rush Revere on social media:
Don't just take my word for how fun these books are: read the review of 99 other members of the Homeschool Review Crew! Click here: